Each budget traveler likely has a hotel horror story of their own. A quick Google search would lead you to several articles telling those stories, and you'd hardly believe what you'd see. From bed bugs to poor security, a budget hotel could miss many important details when it comes to customer service. But yours doesn't have to be that way.
Before diving into the hacks, though, you're probably wondering why some cheap hotels deliver low-quality service. Well, there can't be a single answer for each of those hotels. Several factors affect the quality of service budget hotels provide. Lack of staff, for instance, could result in poorly cleaned rooms and bathrooms. It's not an excuse, of course; the management must ensure that every room is clean before it's used. However, incompetent management can be complacent about cleanliness.
Hence, before sprucing up your budget hotel, make sure you have an excellent team working with you. Your resources may be limited, but it doesn't mean you can give cheap services. So without further ado, let's see the hacks to making a budget hotel feel luxurious:
1. Strengthen Safety and Security Measures
One of the signs of a bad hotel is lax safety and security measures. True enough, in one hotel horror story, a guest had found their room obviously robbed of its contents. Needless to say, the guest slept in the room with a lingering paranoia.
Lax safety and security measures can only be experienced when the guest has already checked in. To ensure that your hotel is 100% safe and secure, implement the standard security measures for establishments like yours. If you can't afford to hire security personnel, use technology. There are affordable yet reliable surveillance cameras, burglar alarms, motion sensors, and smart locks. As for safety, make sure every floor and room has a fire prevention device, such as smoke detectors and fire extinguishers. A sprinkler system will come in handy, too.
Safety and security should be prioritized in hotels. No matter how striking your aesthetics are, they'll be useless if safety and security issues are rampant in your hotel.
2. Do the Lighting Right
Budget hotels are typically located in areas where the views aren't the best. Instead of glittering skyscrapers, the guests probably see dilapidated lamp posts from their rooms at night. To make up for this shortcoming, make the lights inside your hotel look fancy. Install overhead lights with dimmable bulbs and lampshades for a more moody atmosphere. To block the unappealing views outside, ditch the plastic blinds for drapes. They don't have to be black-out curtains, but at least a material that provides enough decorative appeal and privacy.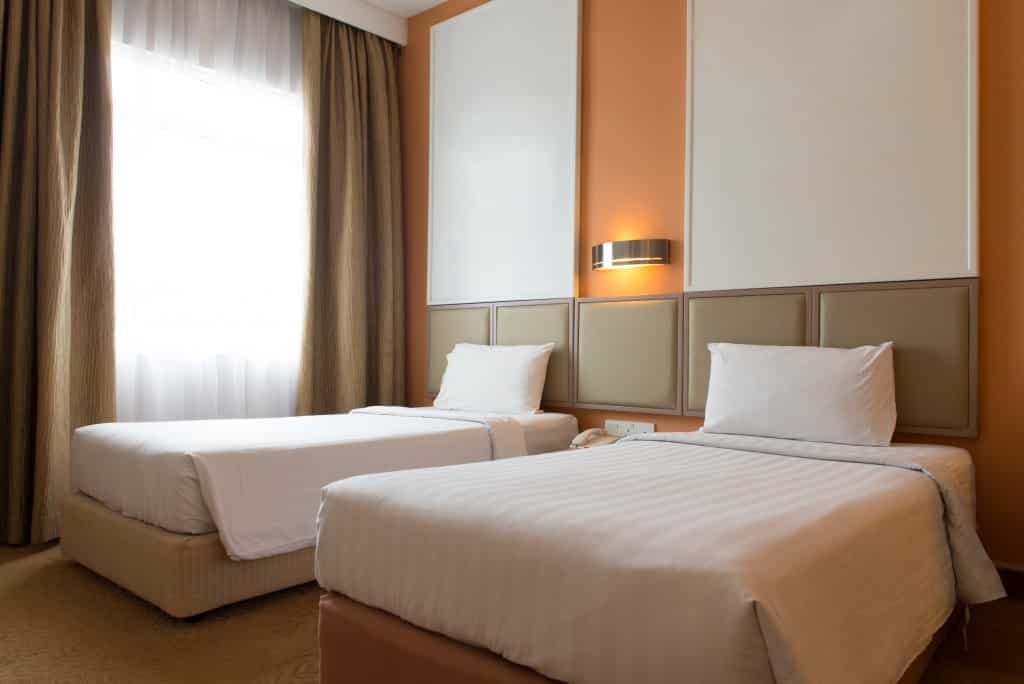 3. Keep Decorations Minimal
Five-star hotels may look overly embellished at first glance. But upon closer inspection, you'd realize that they keep the decorations minimal. They only put one statement decor in a room, serving as the focal point of the space.
Do the same for your budget hotel. Get rid of the decorations that only distract the eye. If possible, make the decorations serve other purposes besides adorning a space. For example, a flower pot could serve as both decor and a touch of nature. An ornamental tray can be decor and a container for small objects, like earrings, watches, and other accessories. That way, the rooms can be more efficient.
4. Invest in High-quality Mattresses
If you ever wonder how hotel beds put up with different sleepers, the answer is simple: they're hotel-grade, high-quality mattresses. They're pricier than the typical mattresses used in homes, as they're exactly designed to provide comfort for every type of sleeper.
If your mattresses easily sag, then you're due for a visit to the best mattress store. Choose a mattress with inner springs between two layers of foam or padding. Latex mattresses, in particular, work well in hotels because of their ability to hug the body's contours, like memory foam.
Ensure that your bedding is soft and made of high-quality materials, too. Use down pillows, fluffy duvets or comforters, and mattress toppers for easier cleaning.
5. Use Neutral Colors
Colors may be coming back in interior design, but in hotels, neutral palettes remain superior. It's a universal aesthetic, so all guests are likely to find it appealing. Plus, too much color can make a space look cheap instead of elegant. So unless you know your way around colors, it's safer to stick to a neutral palette.
With your budget hotel looking fresh, easy on the eyes, and feeling comfortable, your guests would forget that they paid only a small amount for your rooms. Dispel the idea that low prices mean cheap services. Both you and your guests will benefit from high-quality service at an affordable price.