Halloween is still a few months away, but now is the time to start planning for a fun and safe night for the whole family. Most people know that Halloween is a time for tricks and treats, but it's also when many accidents happen. That's why it's so important to plan and be safe.
Here are some tips to help you plan a fun and safe Halloween night for the whole family.
1. Decide on a theme.
Whether it's spooky, silly, or something in between, having a theme will help you narrow your decoration and costume choices. It will also make it more fun for the kids (and adults) to get into the Halloween spirit. Many neighborhoods even have Halloween decorating contests, so a theme can help you step up your game if you feel competitive.
Some of the common themes people go for are:
Witch's den
Haunted house
Zombie apocalypse
Under the sea
Get your children involved in the planning and let them choose the theme. They'll be more likely to enjoy themselves if they're a part of the decision-making process. Just set some boundaries, so the theme doesn't get too out of hand.
2. Choose age-appropriate activities.
Halloween night is not the time to try something new and adventurous. Many accidents and crimes happen because people get too daring and take unnecessary risks. If you have young children, stick to safe activities like trick-or-treating in your neighborhood or a pumpkin patch. You can add activities like hayrides and haunted houses as they get older – but only if you know they can handle it.
Some families also attend family-friendly Halloween events with activities for all ages. This is an excellent option to avoid the more crowded and dangerous areas on Halloween night. A few activities included at these events are carnival games, pony rides, and face painting.
But you can organize your activities, too. A Halloween scavenger hunt or a spooky movie marathon is always fun. Make sure everyone is on the same page about what they're comfortable with before you start. You don't want anyone to feel left out or uncomfortable.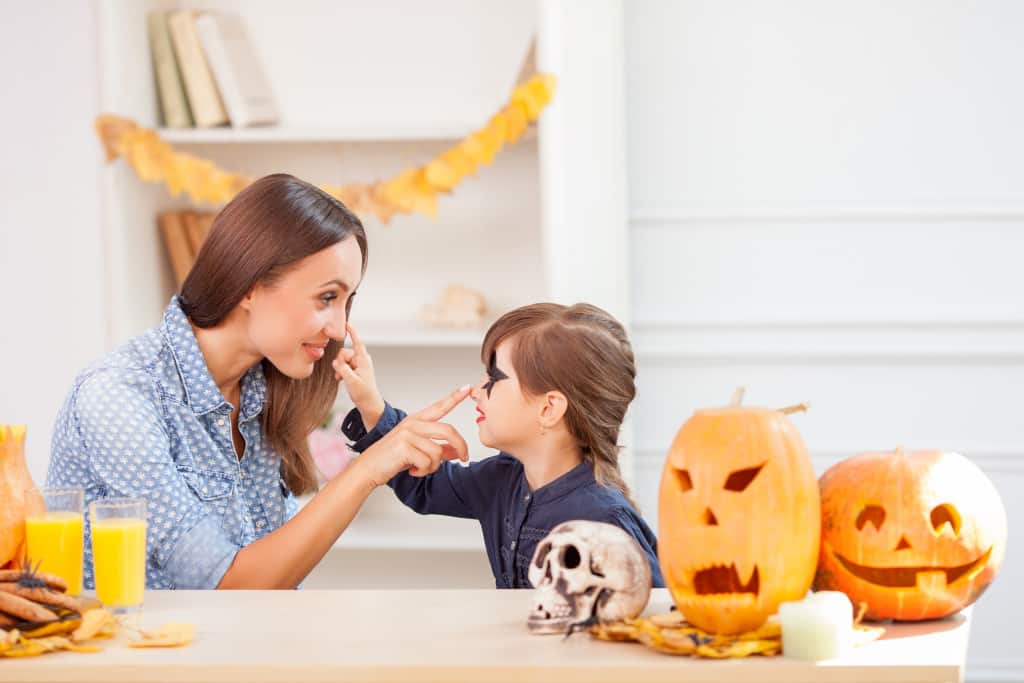 3. Make sure your costumes are safe.
This may seem like a no-brainer, but many people forget to consider safety when picking out their Halloween costumes. If you're going to be out after dark, your costumes should be made of light-colored or reflective materials. This will help you (and your kids) be seen by drivers.
It would be best if you also avoid long, flowing costumes or anything that might block your vision. If you're wearing a mask, cut out eyeholes that give you a full range of vision. And if you carry any props, like swords or knives, be sure they're made of soft, flexible materials. You don't want anyone getting hurt – or scaring someone else!
4. Have a plan for getting around.
If you're going out after dark, it's essential to have a plan for getting around. Walking is always the best option, but if you have to drive, map out your route in advance. Many people will be walking the streets on Halloween night, so be extra careful when you're driving. And if you're drinking, don't even think about getting behind the wheel. Have a designated driver or call a cab – it's not worth the risk.
You can also avoid driving altogether by taking public transportation. Many cities offer free or discounted fares on Halloween night to help people get around safely. Some even offer special Halloween-themed events, like costume contests or movie screenings. So check with your local transit authority to see what's available.
5. Stay together.
Groups are always safer than individuals, so it's important to stick together on Halloween night. If you have young children, make sure they trick-or-treat with a group of friends or family members. And if you're going to be out after dark, plan to go with a group of friends. It's always better to have someone watching your back.
You should also agree on a meeting place in case you get separated. That way, you can easily find each other if something happens. And be sure to carry a cell phone, so you can call for help if you need it. Have the numbers of your local police and fire department saved in your phone, just in case.
Halloween is a fun holiday, but it's essential to be safe. By following these tips, you can ensure your Halloween night is enjoyable for the whole family. If you have any concerns, don't hesitate to contact your local police or fire department. They'll be happy to help you make a safety plan. And have a happy Halloween!